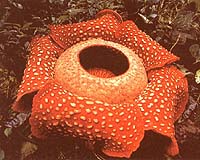 Rafflesia arnoldii is the largest flower on earth with a maximum diameter of 91 centimeter or 3 feet. You will find Rafflesia nowhere in a botanical garden and if you are interested to see this magnificent flower you have to travel and search for it in its natural habitat.

I have seen
Rafflesia arnoldii in Sumatra


at Batang Balupuh near Bukittinggi - 27.12.'86



at Pagar Gunung I near Curup (Prop. Bengkulu) - 7.1.'87



at Pagar Gunung II near Curup (Prop. Bengkulu) - 22.1.'90

and again 12.2.'90




Rafflesia pricei in Borneo (Sabah)

at Copper Mine Reserve near Ranau on the base of Mt. Kinabalu - 14.4.'94



at Tambunan Rafflesia Center (58 km north of Kota Kinabalu) - 16.4.'94



This is the best place to see a Rafflesia blooming.

---
Links to Rafflesia pages on the Internet:

All Rafflesia species from Malaysia

One of the best picture of Rafflesia arnoldii (and many informations about Indonesia) on Liono's Homepage.
---

January 22, 1997 Gerhard Winter